WELCOME TO PHILIPPINE SCHOOL (BAHRAIN)!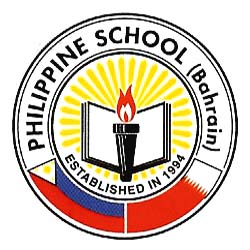 Our deep appreciation to CFO for launching the PSO Facebook page! This is a very commendable initiative. Indeed, it's a way of recognizing the best efforts of PSOs in promoting Philippine educational system. This Facebook page also binds PSOs and all Filipinos in the noble aim of showing how Filipino professionals are educated and prepared for the world of work.
Our sincerest appreciation, too for giving us the opportunity to provide you an idea about how our school activities translate our vision-mission into effective educational practices.
Philippine School (Bahrain) is a non-profit community school committed to provide excellent basic education to children of Filipino Overseas Workers (OFW) in the Kingdom of Bahrain. We are very proud of our students who appreciate and cherish the rich Filipino cultural heritage. Our faculty and staff hail from different regions of the Philippines that provide effective and supportive learning environment for our students. They are supported by a dedicated team of administrative staff who are committed to create a conducive learning environment.
PSB opened its doors to Filipino students in 1995. Since then, PSB has graduated a good number of young men and women who take pride of the school and our country - the Philippines, the pearl of the orient seas.
Through the unselfish assistance of the Philippine Ambassadors to the Kingdom of Bahrain from H.E. Leonides T. Caday, H.E. Akmad A. Sakkam, H.E. Rodolfo I. Dumapias, H.E. Eduardo Pablo M. Maglaya, H.E. Ma. Corazon Yap-Bahjin, H.E. Sahid S. Glang, and H.E. Excellency Alfonso Ferdinand A. Ver, Philippine School Bahrain steadily grows into a strong citadel of Philippine education in this part of the Middle East.
As a commitment to excellent education, PSB endeavors to attain full accreditation from PAASCU, the Philippines' oldest and largest independent and internationally affiliated quality assurance body in education which has accredited the excellent schools in the Philippines.
We always take pride of our school and its achievements over the years. Each year we continue to energize ourselves to enhance our curricula, educational pedagogy, facilities and services for the proper development of our students. This is not our promise but a responsibility we place upon our shoulders.
We are blessed to have parents and benefactors who support the school in all its endeavors. We maintain a strong communication with them to help us to reflect and move forward with sure steps. With them, we make things happen. Their simple yet valuable efforts inspire us to focus our work in helping the children grow in knowledge and values.
I do hope our modest achievements coupled with our continuous development will give you an idea about our school and our educational direction. We invite you to visit our school and see for yourself an excellent Philippine school in a country outside our own.
Mabuhay!
Geronimo R. Salem, Ed.D.
School Director