DepED, CFO Officials Discuss Education Cooperation with Malaysian Officials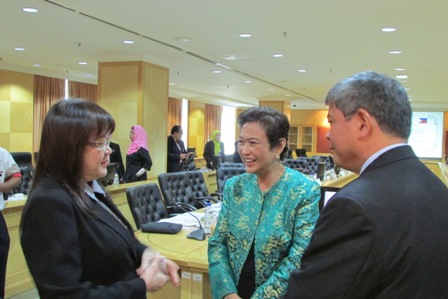 28 August 2014 – Commission on Filipinos Overseas (CFO) Chairperson Imelda Nicolas and Education Undersecretary for Partnership and External Linkages Mario Deriquito visited Kuala Lumpur on August 26-27 to lay the ground work for the implementation of the recently concluded Memorandum of Understanding (MOU) on Cooperation in the Field of Education between the Philippines and Malaysia.
During their visit, the two officials called on Malaysian Deputy Minister of Education Datuk Mary Yap Kain Ching and other Malaysian education ministry officials, to discuss possible areas of cooperation.
Accompanying the officials during their meetings were Ambassador J. Eduardo Malaya, Vice Consul Alvin Malasig, Ms. Karen Pahayahay and Ms. Princess Mayumi Peralta.
The two sides agreed to explore cooperation in the areas of education assessment, technical and vocational training, information technology, science and mathematics, and a community-based alternative education program for Filipino children in Sabah.
The details of the proposed activities will be further discussed at the forthcoming inaugural Joint Working Group Meeting under the MOU on Cooperation in the Field of Education to be held in Manila early next year.
"We are looking forward to our country's hosting of the inaugural Joint Working Group Meeting in Manila next year, and we hope to have early implementation of mutually beneficial collaborative projects," Ambassador Malaya said.
The Philippines-Malaysia MOU on Cooperation in the Field of Education was signed by Foreign Affairs Secretary Albert F. del Rosario and Malaysian Minister for Education II Dato' Seri Idris bin Jusoh last February 28, one of two agreements signed during the State Visit of President Benigno S. Aquino III to Malaysia in February this year upon the invitation of His Majesty the Yang di-Pertuan Agong (King) of Malaysia. END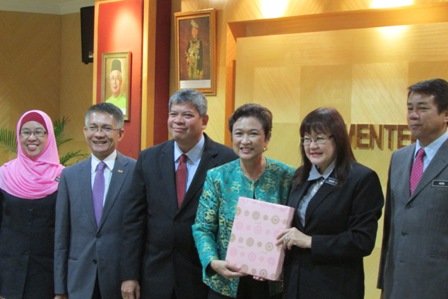 Secretary Nicolas (fourth from left) presents a token to Deputy Minister Datuk Mary (second from right), along with Undersecretary Deriquito (third from left) and Ambassador J. Eduardo Malaya (second from left).  Joining them in the photo are Malaysian Ministry of Education officials.
Source:
Philippine Embassy Kuala Lumpur