Philippine President Congratulates Essay Writing Contest Winners
(USP4GG) — Makati City: On Feb. 26, 2013, the awards ceremony for the winners of the essay contest on the West Philippine Sea, which had the theme, "The West Philippine Sea and its Impact on the future of the Philipppines," was held during the Global Summit of the Filipinos in Diaspora at the Dusit Thani Hotel, Makati City, Metro Manila, the Philippines. The ceremony was made possible in part through the support and collaboration of the Commission on Filipinos Overseas (CFO) chaired by Secretary Imelda M. Nicolas and her staff.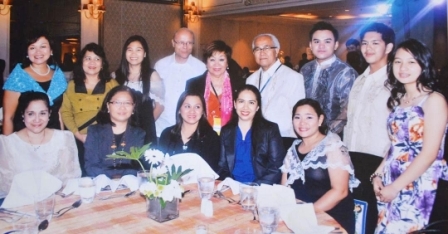 Seating: Dr. Celia B. Lamkin, US Pinoys for Good Governance Marianas chapter chairperson; Dr. Ruth Rico, Department chair of the Colege of Philosophy and Political Science, University of the Philippines (UP) Diliman; Mrs. Ester L.Manaysay, mother of Ferth Vandesteen Manaysay, 1st prize winner College category; Mrs. Joan Tachado, mother of Hentjie Oliver Tachado, 1st prize winner High School Category; Dela Salle College Representative,
Standing from left: Dr. Almira Gilles (judge); Mrs. Estella, mother of Gervie Kay Estella, 2nd prize winner College Category; gervie kay estella; Francois Xavier Bonnet, judge; Atty. Lolita Farmer (judge), Romy Cayabyab (judge), Ferth Vandesteen Manaysay ; Hentjie Oliver Tachado and Krytal Amihan de Leon, 3rd prize winner High School Category
The event was attended by more than 500 Global Filipinos, individuals from different disciplines, public and private organizations and associations from the Philippines and all over the world.
Dr. Celia Lamkin, USP4GG Marianas chapter chairperson, read the message of Philippine President Benigno S. Aquino III congratulating the winners. The message of President Aquino states," My warmest greetings to the winners and participants of the 1st essay contest on West Philippine Sea spearheaded by US Pinoys for Good Governance (USP4GG). In this globalized milieu, our sense of nationhood enjoins us to go beyond the physical demarcations of territories in upholding our people's narrative of valor, freedom and dignity. This competition is borne of the same resolve, and it is our hope that this redounds to the greater involvement of our youth in issues of social significance, and in the wider enterprise of nation-building. As you examine the many concerns surrounding the West Philippine Sea, may you enliven an informed discourse that honors our storied heritage, and compels us to uphold regional consensus and harmony through positive, reasonable engagement and mutual respect. Let this also deepen our identity by leading more Global Filipinos towards further inquiry and appreciation of our motherland. Continue to actualize your potential for leadership. For in the future, you will sustain the gains of this era of daylight. Congratulations to all of you."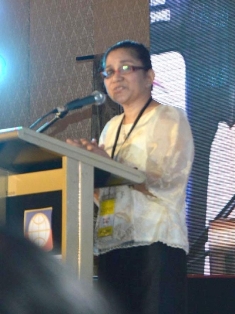 Dr. Celia Lamkin, chair of the usp4gg marianas chapter, while reading the message of His Excellency President Benigno S. Aquino iii congratulating the winners and participants of the essay contest on West Philippine sea
Lamkin, for her part, thanked her husband, Ronald P.Lamkin and two sons, Jericho and John Raymond for their untiring love, support, help and assistance while she was coordinating the essay contest.
She also thanked USP4GG officials — attorney Loida, Lewis, attorney Ted Laguatan, attorney Rodel Rodis — and Secretary Imelda Nicolas for their faith, trust and support on her that made the essay contest a reality.
Lamkin also thanked Secretary Armin Luistro of the Department of Education and Dr. Patricia Licuanan of the Commission on Higher Education, donors, sponsors, judges, volunteers and media partners as well as the winners of the essay contest.
"Without the judges, there will be no winners in this essay contest. Hence, I would like to commend and thank the judges for their talents, time, efforts, patience, understanding, support and volunteerism. They have really done a great and excellent job," said Dr. Celia Lamkin, the one who originally conceived this essay contest on West Philippine Sea and chair/ organizer of the said contest.
The judges were attorney Ted Laguatan, USP4GG spokesperson/legal counsel and one of the top immigration lawyers in the U.S.; Dr. Josefina Tayag, retired vice chancellor for Academic Affairs of the University of the Philippines-Manila and currently a professional lecturer of the UP Open University; Zaldy Dandan, editor of Marianas Variety on Saipan, CNMI; Francois Xavier Bonnet, geographer and a research associate of the Research Institute on Contemporary Southeast Asia; Dr. Myrna Soriente-Estrada, a Manila-based medical doctor and an associate professor at the De LaSalle College of Medicine; Samantha East, an associate producer with CBC News Network in Toronto, Canada and a first runner-up in the 2009 Mutya ng Pilipinas beauty pageant; Romy Cayabyab, publisher and editor of the award winning EMANILA, a Sydney-based Internet publishing and media company and The Filipino Australian (TFA)News; attorney Lolita Farmer, OAM, the first Filipino practicing lawyer in New South Wales, Australia and chair of the Worldwide-Filipino Alliance; Dr. Almira Astudillo Gilles, an award-winning writer of fiction and non-fiction based in Chicago, Illinois and a 2012 Presidential awardee of Pamana ng Pilipino award; Gus Mercado, regional chair of USP4GG Texas and CEO and chairman of the Datalogix in Texas and Silicon Valley; Nancy Alba Baldoz, a Guam-based businesswoman, president of Laguna Association of Guam and USP4GG Marianas chapter member; and Alfredo Antolin,Jr., director of Guam Agency for Human Resources Development.
The winners in the college category are :
• Ferth Vandensteen L. Manaysay, first prize, 50,000 pesos or $1,250.00, University of the Philippines- Diliman, Quezon City, Philippines
• Gervie Kay S. Estella, second prize, 25,000 pesos, University of Santo Tomas-Manila, Philippines
• Francis Dave L. Selorio, third prize, 12,000 pesos, John B. Lacson Foundation Maritime University- Iloilo City, Philippines

The winners for the high school category are:
• Hentjie Oliver A. Tachado, first prize, 30,000 pesos, La Salle College, Antipolo, Antipolo City. Metro Manila, Philippines
• Reena Jenara B. Biso, second prize, 15,000, pesos, Future Generation Philippine International School, Riyadh, Kingdom of Saudi Arabia
• Amihan Krystal De Leon, third prize, 7,000 pesos, Colegio San Agustin-Makati, Philippines

The first prize winning essay university and school ---The University of the Philippines Diliman College of Social Sciences and Philosophy and LaSalle College Antipolo received 20,000 pesos each.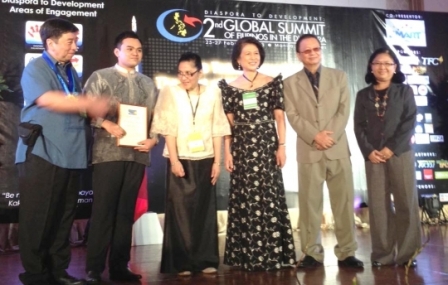 From Left: Atty. Rodel Rodis, national president of USP4GG, Ferth vandesteen Manaysay, first prize winner college category; Dr Celia Lamkin, USP4GG marianas chapter chairperson, Atty. Loida Lewis, USP4GG national chairperson, Atty. Ted Laguatan, usp4gg spokesperson/legal counsel and Dr. Ruth Rico-department chair of political sciences, UP Diliman
"There were 323 students from both high school and college categories around the world---USA, Canada, Saudi Arabia, United Arab Emirates, Qatar, Saipan and all regions of the Philippines who participated in the essay contest. It is heartening and overwhelming to know that our youth have so many opinions and thoughts on sovereignty over the disputed territories, protection of the resources on these territories and how these resources will improve the lives of the Filipinos and our motherland. This first historic global essay contest is really a huge success", added Dr. Lamkin.
The US Pinoys for Good Governance is a 501 (c)(3) nonprofit organization based in New York, headed by national chairperson Loida Nicolas Lewis, national president Rodel Rodis and spokesperson/legal counsel Ted Laguatan. Its mission is a better life for Filipinos everywhere and a better Philippines.
For more information on USP4GG, visit http://www.uspgg.org.

Source: Dr. Celia B.Lamkin Chairperson, US Pinoys for Good Governance (USP4GG) Marianas Chapter (CNMI and Guam), 18 March 2013