DepED, CFO, Phl Embassy Forge Partnership with Alternative Learning Centers to Provide Education to Filipino Children in Sabah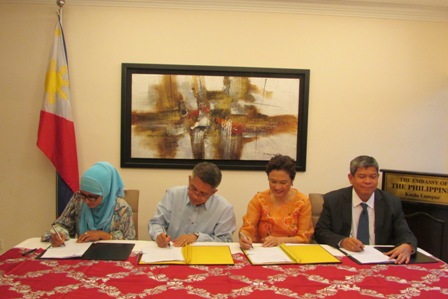 28 August 2014 – The Commission on Filipinos Overseas (CFO), the Department of Education (DepEd) and the Philippine Embassy in Kuala Lumpur signed a Memorandum of Understanding on Community-based Education with six Sabah-based alternative learning centers (ALCs) last August 26.
The MOU aims to improve the capacity of the ALCs to provide basic literacy t
o Filipino children who have no access to regular education through capacity-building activities; professional, technical and administrative advice and the provision of learning and instructional materials, among others.
Some 2,234 school-aged undocumented Filipino children are now enrolled in the ALCs which are parties to the MOU, namely Learning Translation and Review Centre (Keningau), Persatuan Kebajikan Pendidikan Kanak-Kanak Miskin (The Society for Education of Underprivileged Children) (Lahad Datu and Semporna), Sekolah Sukarela Persatuan MAFIL-KOFA (Keningau), Stairway to Hope Learning Center (Kota Kinabalu), Stairway to Success Learning Center (Sandakan), and Vision of Hope Learning Center (Keningau).
Undocumented children have extremely limited access to public education in Malaysia.
The CFO and DepEd were represented by Secretary Imelda Nicolas and Education Undersecretary for External Linkages Mario Deriquito, respectively.  Both officials were on an official visit to Kuala Lumpur from August 26 to 27.
Ambassador J. Eduardo Malaya signed on behalf of the Embassy while heads and representatives of the ALCs signed for their respective institutions.
"Filipino children in Sabah are in a precarious situation and our initiatives are mere first steps in a long journey, but we are hopeful that with the dedication of all stakeholders, we will be able to transform through education the lives of these children for the better," Ambassador Malaya said.
Prior to the signing, the visiting Philippine officials had the opportunity to meet with the ALC heads and representatives and discuss the educational needs of Filipino children in their areas and related matters, including the possibility of holding a two-week training seminar for ALC teachers in the last quarter of this year. END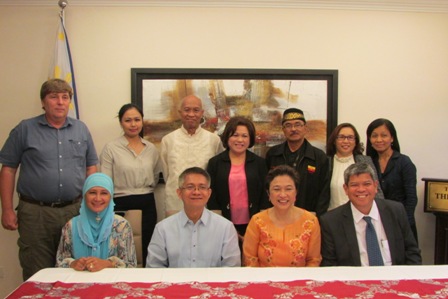 Ambassador Malaya, Chairperson Nicolas and Undersecretary Dequito (seated, second third and fourth from left, respectively) join the heads of ALCs in this photo (standing from right) Borneo Child Aid Society (Humana) project manager Torben Venning, Learning Translation and Review Center representative Dina binti Hanalpia, Stairway to Success project manager Vic Moran, Stairway to Success project manager Marilou Chin, Sekolah Sukarela Persatuan MAFIL-KOFA project manager Mohd Ijin bin Johari, Ms. Cheryl Fernandez and Ms. Jacquiline Minoza of Stairway to Hope Learning Center, and (seated, left) Ms. Rosalyn Dawila Venning.
Source:
Philippine Embassy Kuala Lumpur